Eastern Hokkaido Express Bus 2022 winter

2022.1.29 → 3.6 Every day.
Select a routeclose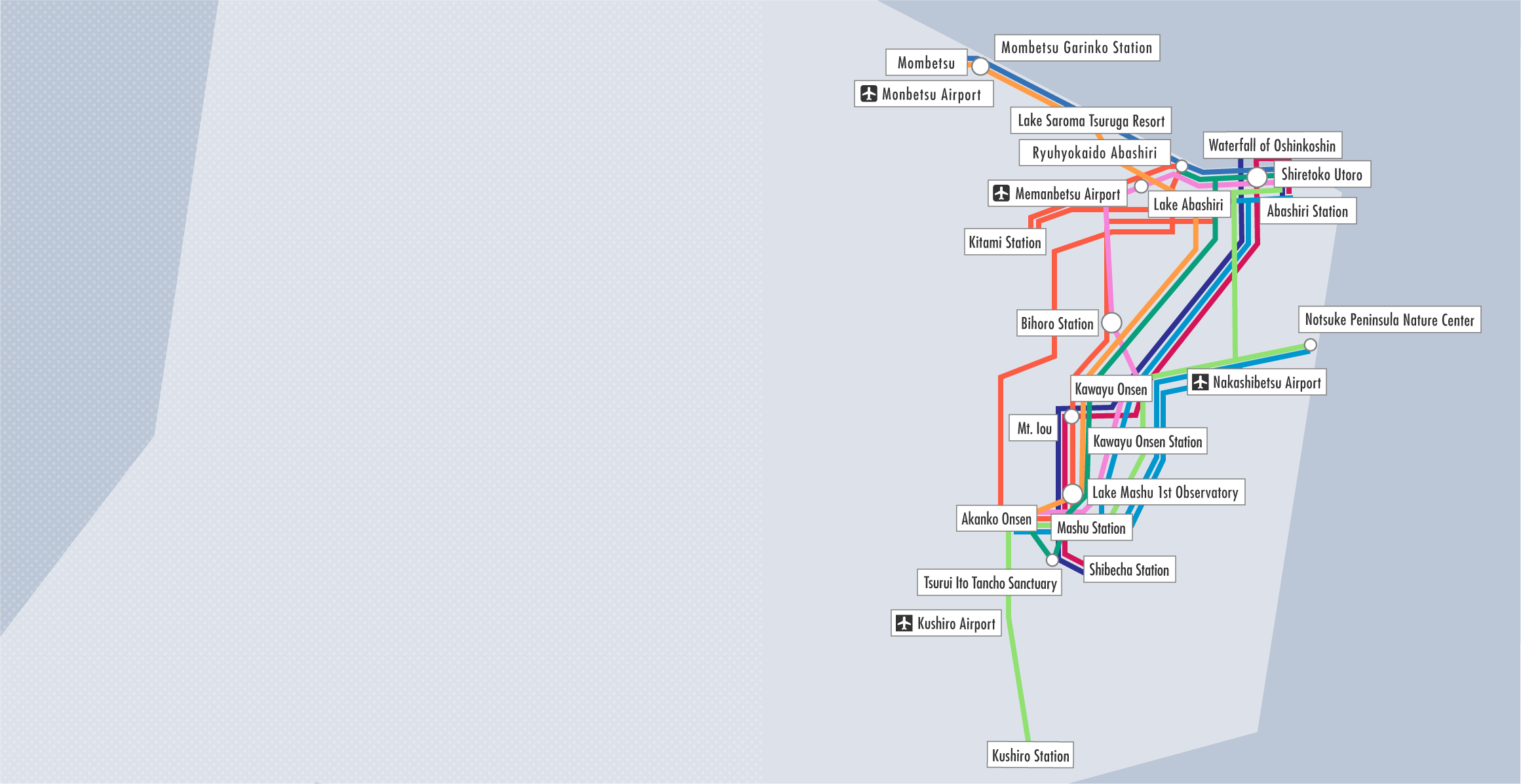 No.1 Mombetsu & Abashiri → Utoro

No.2 Utoro → Abashiri & Mashu → Akan

No.3 Akan → Mashu & Abashiri → Mombetsu

No.4 Kushiro → Akan → Bihoro → Abashiri → Utoro

No.5 Utoro → Notsuke → Akan → Kushiro

No.6 Kitami & Abashiri → Mashu → Akan → Kitami & Abashiri

No.7 Akan → Notsuke & Nakashibetsu → Utoro → Abashiri

No.8 Utoro → Shibecha (SL Fuyu-no-Shitsugen Train Connection)

No.9 Shibecha → Utoro (SL Fuyu-no-Shitsugen Train Connection)

ALL
"Eastern Hokkaido Express Bus takes you to the tourist attractions in eastern Hokkaido for a limited period of time in winter.
So many winter tourist spots including drift ice and Shiretoko, which you can only see in eastern Hokkaido, are waiting for you!
Eastern Hokkaido Express Bus allows you an easier access to winter tourist attractions, which are hard to get to by car, such as Mombetsu, Shiretoko, Abashiri, Kushiro, and Notsuke Peninsula!"

5 Tips of Eastern Hokkaido Express Bus
It travels eastern Hokkaido area in winter only.
Each bus requires advance booking.

11 lines to cover eastern Hokkaido
Operates once a day per route

1 service a day in each line.
There may be a taxi depending on the number of people

5-day advance booking is recommended.
You may book by 2-day before boarding depending on the reservation status.

Booking can be completed online immediately!

Safety Measures for Prevention of COVID-19 Infection and Our Request
・For prevention of COVID-19 infection, the service will be conducted based on "The Guideline of Safety Measures to Prevent COVID-19 Infection in Bus & Taxi Industry" which was established by Hokkaido Bus Association.For more details, please read here.
・Wear a mask when you're on a bus.
・All passengers are subject to temperature screening before boarding. Please note that any passengers whose body temperature is higher than 37.5 degrees Celsius (99.5 degrees Fahrenheit) cannot get on the bus to prevent COVID-19 infection.
・Due to ventilation at fixed intervals, the temperature on buses is expected to be colder than that of other years.
・Refrain from eating and drinking, especially alcohol, on a bus, and also try not to talk loudly.
About Eastern Hokkaido Express Bus
Service Period: Every day from January 29 (Sat.) to March 6 (Sun.)* Depends on some flights.
Note: The buses depart strictly on time. Please confirm the boarding location and the schedule and make sure you be there at least 5 minutes in advance.
(We will not take any responsibility for your late arrival, which results in missing the bus.)
Note: Due to the bus schedule, there might be cases you will not be able to have breakfast depending on the hotel you stay. Please confirm beforehand.
Note: The bus route is subject to change if any of the sections is closed.
Note: Note: The bus will not stop at a place where no reserved passenger is expected to board.
Note: We are not responsible for any payment you make for your facility use, meals, and shopping.
Note: Service hours and holidays of tourist attractions may change.
Note: The vehicle may change to a midsize bus, a small bus, or a taxi depending on the number of passengers.
Terms of Use
You will have to stay in the accommodations listed below if you are using the bus.
●Mombetsu (Mombetsu Central Hotel, Hotel Okhotsk Palace, Mombetsu Prince Hotel)
●Abashiri Lake Saroma (Hokuten no Oka Lake Abashiri Tsuruga Resort, Abashiri Kankou Hotel, Hotel Abashirikoso, Tento no Sato Hotel Honjin Lake Abashiri, and other accommodations within Abashiri city)
●Kitami Accommodations within Kitami ciry
●Shiretoko Utoro (Shiretoko Daiichi Hotel, KIKI Shiretoko Natural Resort, Kitakobushi Shiretoko Hotel and Resort)
●Teshikaga (Kawayu, Mashu, Lake Kussharo) Kawayu Kanko Hotel, Kinkiyu Hotel, and other member accommodations of Lake Mashu Tourism Association(accommodations listed on this page.)
●Lake Akan(Lake Akan Tsuruga Wings, Akan Yuku no Sato Tsuruga, Forest of Akan Tsuruga Resort Hanayuuka, Akan Tsuruga Bessou Hinanoza, New Akan Hotel, Hotel Akankoso, Hotel Gozensui)
●Nakashibetsu Betsukai (Accommodations associated with the tourism association)