Kushiro → Akan → Bihoro → Abashiri → Utoro No.4
Operation period
2022.2.1 (Tue) → 3.5 (Sat) service
Time table
Boarding / alighting place
Arrival time
Departure time
Get on / off
Sightseeing
JR Kushiro Station
7:45

Get on

Michi no Eki Akan Tancho no Sato
9:00
9:20

Get on

Sightseeing for
20 mins
Akanko Onsen ※1
10:00
10:15

Get on

Michi no Eki Mashu Onsen
11:00
11:20

Get on

Get off

Lake Mashu 1st Observatory
11:35
12:05

No

Sightseeing for
30 mins
Bihoro Pass
12:55
13:55

No

Sightseeing for
60 mins
JR Bihoro Station
14:30
14:30

Get on

Get off

Memanbetsu Airpor
14:45
14:45

Get off

Aurora Terminal (Michi-no-Eki "Ryuhyo Kaido Abashiri")
15:15
16:40

Get on

Get off

Sightseeing for
95 mins
Respective Hotels in Utoro Onsen ※2
18:00

Get off
※1 You can choose from Yukyu no Sato Tsuruga, Tsuruga Wings, Gozensui, New Akan Hotel, Hinanoza, Hana Yuka, and Akankoso.
※2 You can choose from Kitakobushi Shiretoko, Kiki Shiretoko, and Shiretoko Daiichi Hotel
[Aurora Go connection] February / March 15:30 Departure and boarding during sightseeing
Ride fare
Note: For those who are 3 - 11 year old, the fare is 50% off the regular price.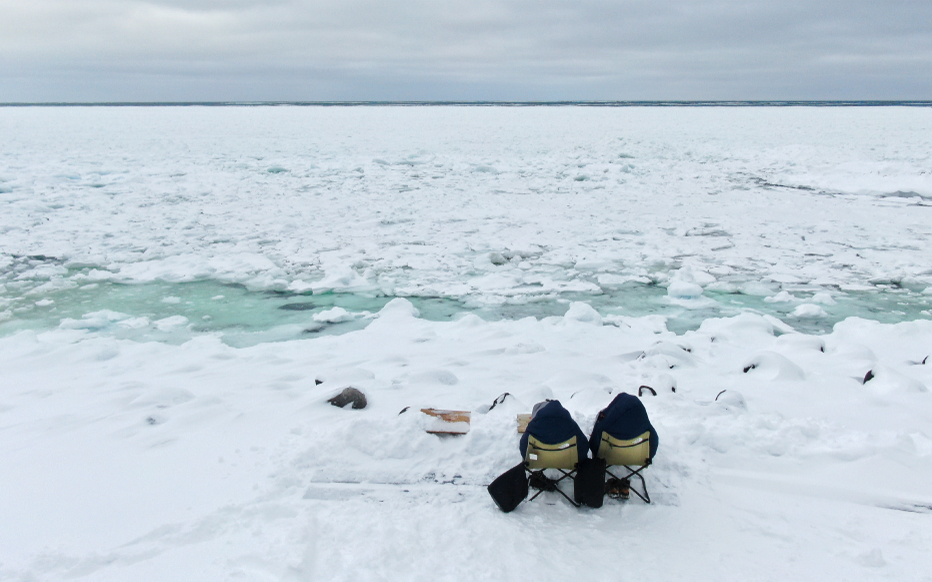 Shiretoko Ryuhyou-yoku (Drift Ice Relaxation)
Wrap yourself in a sleeping bag by the coast of Shiretoko and see the floating drift ice. It's a do-nothing activity.
Details
Route points
The bus will take you to breathtaking scenic spots of winter including Lake Mashu and Bihoro Pass.

You can get on the icebreaker ship, Aurora (departing at 3:30 p.m.) while the bus stays at Aurora Terminal in Abashiri.
Note: Advance booking is required. The fare is at your expense.

You can catch a flight of ANA or JAL to Haneda or New Chitose at Memanbetsu Airport.