The operation in this year (2019) has ended.
The details of the operation from January to March in 2020 will be announced around this summer.
We are looking forward to seeing you again next year.
Sounkyo → Utoro
Travel time:2019 1/26 〜 3/10
This is a route that goes towards Shiretoko Utoro from the Sounkyo Hot Springs via Onneyu Hot Springs, Kitami and Abashiri.
Along the way in Abashiri, you will be able to enjoy either the Abashiri Prison Museum or the Okhotsk Ryūhyō Museum (admission fees separate).
Also while we are stopped at the Abashiri Roadside Station, you will also be able to board the Icebreaker ship 「Aurora」(separate reservations required, boarding fares must be individually self-paid).
Route Map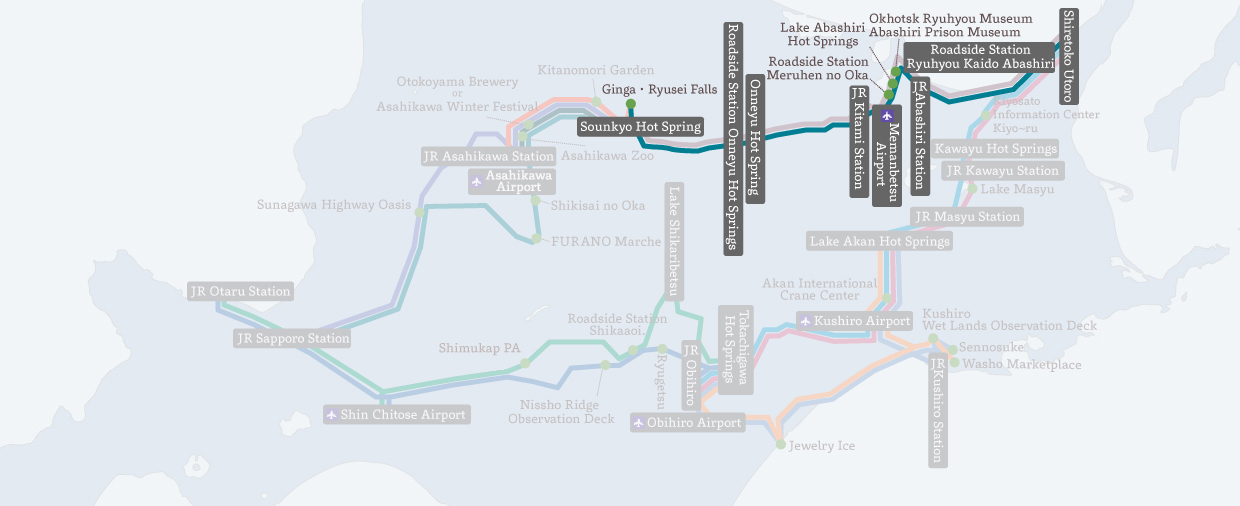 Travel Route
1

Respective Hotels of Sounkyo Hot Springs

7:40〜7:55 depart

Ginga ・ Ryusei Falls

Arrive 8:00/8:15 depart

2

Roadside Station Onneyu Hot Springs

Arrive 9:30/10:00 depart

3

Respective Hotels within Onneyu

9:50〜9:55 depart

4

JR Kitami Station

Arrive 10:45

5

Roadside Station Meruhen no Oka Memanbetsu

Arrive 11:35/Arrive 12:35

6

Meruhen no Oka

Arrive 12:40

7

Respective Hotels of Abashirikoso

12:50〜13:00

Okhotsk Ryuhyou Museum

Arrive 13:10

Abashiri Prison Museum

Arrive 13:15

8

Memanbetsu Airport

Arrive 13:45/13:50 depart

Okhotsk Ryuhyou Museum

14:20 depart

Abashiri Prison Museum

14:25 depart

9

JR Abashiri Station

Arrive 14:35

10

Roadside Station Ryuhyou Kaido Abashiri

Arrive 14:40/16:40 depart

11

Respective Hotels of Utoro Hot Springs

18:25〜18:40
A

Mark・・

You can get off

B

Mark・・

You can board

H

Mark・・

Break time
Price List
Upper Floor:Adult (12 years and older or Junior High School)
Lower floor:Children (11 years or below if a seat is needed or under Junior High School age)
| | | | | | Shiretoko Utoro |
| --- | --- | --- | --- | --- | --- |
| | | | | Within Abashiri city | |
| | | | Memanbetsu Airport | | |
| | | JR Kitami Station | | | |
| | Oneyu Onsen | | | | |
| Sounkyo Onsen | | | | | |
Outbound journey, hotel departure and arrival times )
【Respective Hotels of Sounkyo Hot Springs】

| | |
| --- | --- |
| 7:40 depart | Choyo Resort Hotel |
| 7:45 depart | Sounkyo Kankou Hotel |
| 7:50 depart | Hotel Taisetsu |
| 7:55 depart | Sounkyo Choyotei |
| 8:00 depart | Hotel Sounkaku Grand |

【Respective Hotels within Onneyu Hot Springs】

| | |
| --- | --- |
| 9:50 depart | Onneyu Hotel |
| 9:55 depart | Oe Honke |

※2/6〜2/11は35分遅れ

【Respective Hotels of Abashirikoso】

| | |
| --- | --- |
| 12:50 depart | Lake Abashiri Tsuruga Resort |
| 12:55 depart | Hotel Abashirikoso |
| 13:00 depart | Abashiri Kanko Hotel |

【Respective Hotels of Utoro Hot Springs】

| | |
| --- | --- |
| Arrive 18:25 | KITAKOBUSHI SHIRETOKO Hotel & Resort |
| Arrive 18:30 | Utoro Roadside Station |
| Arrive 18:35 | KIKI SHIRETOKO NATURAL RESORT |
| Arrive 18:40 | Shiretoko Daiichi Hotel |
Enquiry

Express Bus Booking Center |
White Bear Family Sapporo011-806-0212(Weekdays - Saturday 10:00 ~ 17:00 * Excludes public holidays.)

テキストテキストテキストテキストテキストテキストテキストテキストテキストテキストテキストテキストテキスト

テキストテキストテキストテキストテキストテキストテキストテキストテキストテキストテキストテキストテキスト

テキストテキストテキストテキストテキストテキストテキストテキストテキストテキストテキストテキストテキスト