The operation in this year (2019) has ended.
The details of the operation from January to March in 2020 will be announced around this summer.
We are looking forward to seeing you again next year.
Utoro → Sounkyo
Travel time:2019 1/27 〜 3/11
This is a route that goes towards Sounkyo Hot Springs from Shiretoko Utoro via Abashiri・Kitami・Onneyu Hot Springs.
While we are stopped at the Abashiri Roadside Station, you will also be able to board the Icebreaker ship 「Aurora」(separate reservations required, boarding fares must be individually self-paid).
Meruhen-no-Oka, famous for the 7 trees that soar at Fuyu-no-Oka, is also a must-see spot.
Route Map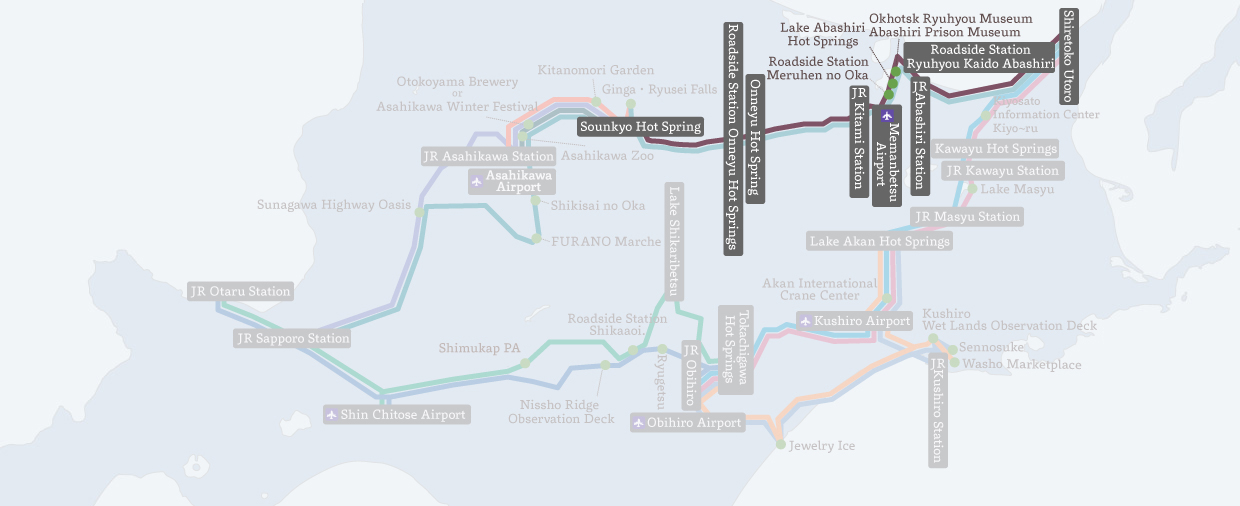 Travel Route
1

Respective Hotels of Utoro Hot Springs

8:35〜8:50 depart

2

Michi no Eki Drift Ice Highway Abashiri

Arrive 10:45/13:05 depart

3

JR Abashiri Station

Arrive 13:10

4

Respective Hotels of Abashirikoso

13:20〜13:30 depart

5

Roadside Station Meruhen no Oka Memanbetsu

Arrive 13:40/13:50 depart

6

Memanbetsu Airport

Arrive 14:00/14:10 depart

7

JR Kitami Station South Entrance

Arrive 15:35

8

Michi no Eki Oneyu Onsen

Arrive 15:50/16:20 depart

9

Respective Hotels within Onneyu Hot Springs

15:55〜16:00

10

Respective Hotels of Sounkyo Hot Springs

17:25〜17:40
A

Mark・・

You can get off

B

Mark・・

You can board

H

Mark・・

Break time
Price List
Upper Floor:Adult (12 years and older or Junior High School)
Lower floor:Children (11 years or below if a seat is needed or under Junior High School age)
| | | | | | Sounkyo Onsen |
| --- | --- | --- | --- | --- | --- |
| | | | | Oneyu Onsen | |
| | | | JR Kitami Station | | |
| | | Memanbetsu Airport | | | |
| | Within Abashiri city | | | | |
| Shiretoko Utoro | | | | | |
Outbound journey, hotel departure and arrival times )
【Respective Hotels of Utoro Hot Springs】

| | |
| --- | --- |
| 8:35 depart | Shiretoko Daiichi Hotel |
| 8:40 depart | KIKI SHIRETOKO NATURAL RESORT |
| 8:45 depart | Utoro Roadside Station |
| 8:50 depart | KITAKOBUSHI SHIRETOKO Hotel & Resort |

※2/6〜2/11は35分遅れ

【Lake Abashiri Hot Spring Hotels】

| | |
| --- | --- |
| Arrive 13:20 | Abashiri Kanko Hotel |
| Arrive 13:25 | Hotel Abashirikoso |
| Arrive 13:30 | Lake Abashiri Tsuruga Resort |

【Respective Hotels within Onneyu Hot Springs】

| | |
| --- | --- |
| 15:55 depart | Oe Honke |
| 16:00 depart | Onneyu Hotel |

※2/6〜2/11は35分遅れ

【Respective Hotels of Sounkyo Hot Springs】

| | |
| --- | --- |
| Arrive 17:25 | Hotel Sounkaku Grand |
| Arrive 17:30 | Sounkyo Choyotei |
| Arrive 17:35 | Hotel Taisetsu |
| Arrive 17:40 | Sounkyo Kankou Hotel |
| Arrive 17:45 | Choyo Resort Hotel |
Enquiry

Express Bus Booking Center |
White Bear Family Sapporo011-806-0212(Weekdays - Saturday 10:00 ~ 17:00 * Excludes public holidays.)

テキストテキストテキストテキストテキストテキストテキストテキストテキストテキストテキストテキストテキスト

テキストテキストテキストテキストテキストテキストテキストテキストテキストテキストテキストテキストテキスト

テキストテキストテキストテキストテキストテキストテキストテキストテキストテキストテキストテキストテキスト