The operation in this year (2019) has ended.
The details of the operation from January to March in 2020 will be announced around this summer.
We are looking forward to seeing you again next year.
Sapporo → Sounkyo Onsen
Travel time:2019 1/25 〜 3/9
A route towards Sounkyo via Asahikawa from Sapporo City limits.
You will be able to enjoy wintertime Asahikawa Zoo and the famous Northern alcohol brand「Otokoyama Brewery」(or the Asahikawa Snow Festival).
At the Sounkyo Hot Springs we will be able to see the magical ice event, Sounkyo Ice Falls Festival!
Route Map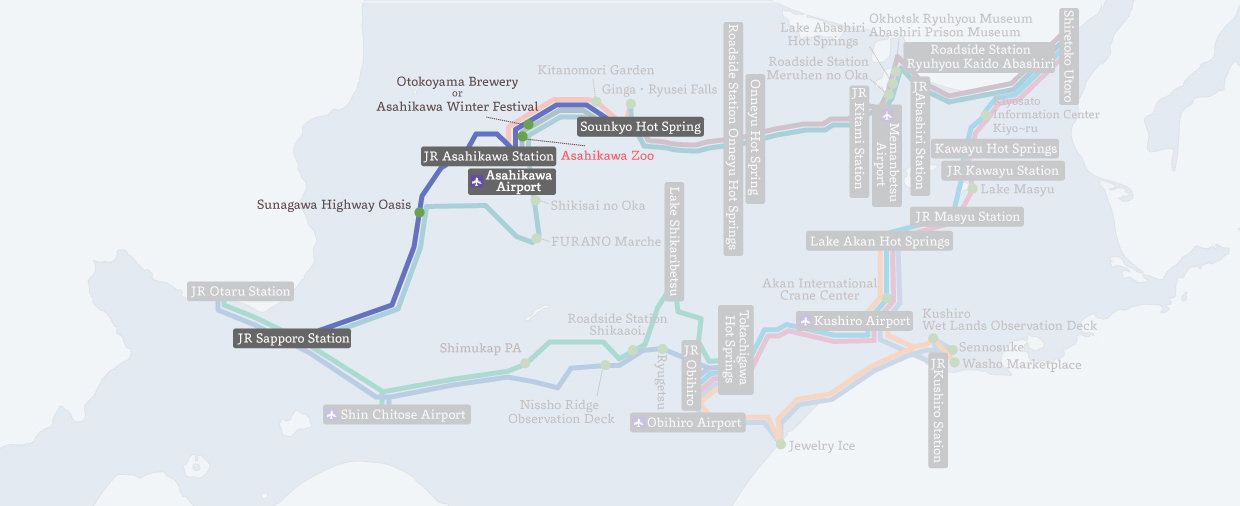 Travel Route
1

Respective Hotels of Sapporo City

8:30〜9:10 depart

Sunagawa Highway Oasis

Arrive 10:20/10:40 depart

2

JR Asahikawa Station (Freetime Lunch)

Arrive 11:40/12:40 depart

3

Asahikawa Airport

Arrive13:10/13:20 depart

Asahikawa Zoo

Arrive 14:00/15:30 depart

Otokoyama Brewery (Apart from those listed below)
Asahikawa Winter Festival (Only during 2/6 ~ 2/11)

Arrive 16:10/16:40 depart
Arrive 16:10/17:00 depart

4

Respective Hotels of Sounkyo Hot Springs

Arrive 17:40〜17:55
Arrive 18:00〜18:30
A

Mark・・

You can get off

B

Mark・・

You can board

H

Mark・・

Break time
Price List
Upper Floor:Adult (12 years and older or Junior High School)
Lower floor:Children (11 years or below if a seat is needed or under Junior High School age)
Sounkyo Onsen
Asahiyama Zoo
JR Asahikawa Station
Asahikawa Airport
Furano Marche
札幌市内
Outbound journey, hotel departure and arrival times )
【Respective Hotels of Sapporo City】

| | |
| --- | --- |
| 8:30 depart | ANA Crowne Plaza Sapporo |
| 8:35 depart | Sapporo Grand Hotel |
| 8:40 depart | Sapporo View Hotel Odori Park |
| 8:50 depart | Sapporo Excel Hotel Tokyu |
| 8:55 depart | Sapporo Tokyu REI Hotel |
| 9:10 depart | JR Tower Hotel Nikko Sapporo |

【Respective Hotels of Sounkyo Hot Springs】

| | |
| --- | --- |
| Arrive 17:40 | Choyo Resort Hotel |
| Arrive 17:45 | Sounkyo Kankou Hotel |
| Arrive 17:50 | Hotel Taisetsu |
| Arrive 17:50 | Sounkyo Choyotei |
| Arrive 17:55 | Hotel Sounkaku Grand |

※2/6〜2/11は35分遅れ
Enquiry

Express Bus Booking Center |
White Bear Family Sapporo011-806-0212(Weekdays - Saturday 10:00 ~ 17:00 * Excludes public holidays.)

テキストテキストテキストテキストテキストテキストテキストテキストテキストテキストテキストテキストテキスト

テキストテキストテキストテキストテキストテキストテキストテキストテキストテキストテキストテキストテキスト

テキストテキストテキストテキストテキストテキストテキストテキストテキストテキストテキストテキストテキスト