The operation in this year (2019) has ended.
The details of the operation from January to March in 2020 will be announced around this summer.
We are looking forward to seeing you again next year.
For first timers.
What kind of routes are covered by the Winter East Hokkaido Buses? Inner East Hokkaido (doutou) to start, Sapporo Otaru , Shin Chitose Airport - East Hokkaido bound for Tokachi (Obihiro, Lake Mombetsu, Tokachigawa Onsen)Kushiro bound (Kushiro, Lake Akan. Kawayu Onsen) Abashiri bound (Kitami, Abashiri, Oneyu Onsen) Shiretoko bound (Utoro) etc travels in all directions
More detailed routes here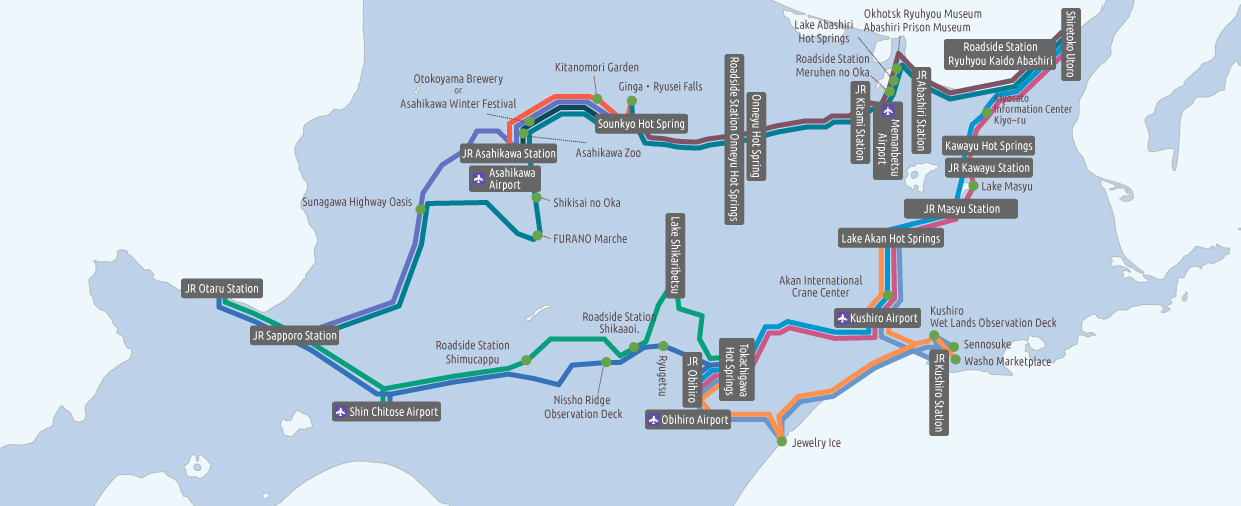 From reservation to ticket purchase
Use your PC or smart phone to find and book seats online Payments can be made by credit card, or you can choose to pay by cash at a convenience store.
Reservation and Questions.

Express Bus Booking Center | White Bear Family Sapporo011-806-0212(Weekdays - Saturday 10:00 ~ 17:00 * Excludes public holidays.)
More detailed routes here
Regarding boarding,
○Please allow extra time for your journey to the boarding location.
○Please aim for 5-10 minutes before scheduled time.
○Once the bus has arrived, please confirm the destination and bus number
○The bus staff will check tickets so please show your reservation screen or print out when boarding the bus.
○This bus is reserved for use by passengers who are using hotels in the Doto or Dohoku area. When boarding the bus please provide evidence of your stay or future stay. This includes stay tickets, confirmation emails, receipts, etc.
Regarding bus interior
○It is the passengers responsbility to fasten their seatbelts whilst travelling on a highway bus. Please make sure to use your seat belts whilst the bus is in motion.
○We ask that you put your cell phone on silent mode, and do not make or answer any phone calls during the trip. When sending messages on your phone, please ensure that the sound is turned off as to not disturb other passengers. Similarly, we ask that you show consideration to other passengers while using music players, watching videos on your cell phone, or using video game devices.
○Please notify the passenger seated behind you if you wish to recline your seat.
Reservation and Questions.

Express Bus Booking Center | White Bear Family Sapporo011-806-0212(Weekdays - Saturday 10:00 ~ 17:00 * Excludes public holidays.)
More detailed routes here