Enjoy with VISIT TOKACHI PASS,
Tokachi / Obihiro bus trip
What is VISIT TOKACHI PASS?

This is a convenient unlimited ride pass for people who visit Tokachi, such as Banei Horse racecourse, Tokachigawa hot spring, Lake Shikaribetsu, Nukabira hot spring village, Old National Railways's Happiness Station and Aikoku Station, where you can enjoy the attractions of Tokachi at a reasonable price.
[Eligible person]

Those who live in Japan and visit Tokachi for sightseeing. For people living within the Tokachi General Promotion Bureau, not eligible for sale.

[Coverage route]

Hokkaido Takushoku Bus and All routes of Tokachi Bus in Tokachi (Including Obihiro Airport shuttle bus)

[Sales period]

Sales throughout the year

[Sales and Exchange Locations]

Obihiro Station Bus Terminal (Hokkaido Takushoku Bus Counter, Tokachi Bus Counter) and Tokachi Obihiro Airport Information Center (Tokachi Bus Counter)

[Type and Cost]

1-day Ticket 1,500 yen [Elementary school students: 750 yen] , 2 days pass 2,500 yen [Elementary school students: 1,250 yen]

[When purchasing]

Together with identification cards (driver's license, my number card etc.) that identifies your current address at the time of purchase, We will check tickets or airline tickets (e-ticket also possible) when coming to Tokachi.
Online purchase from here
Buy it now!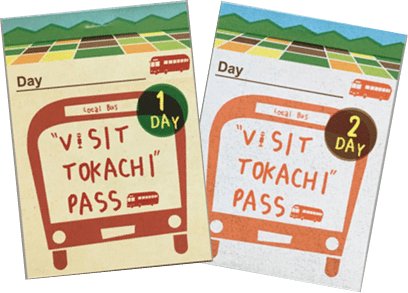 5 model courses using
VISIT TOKACHI PASS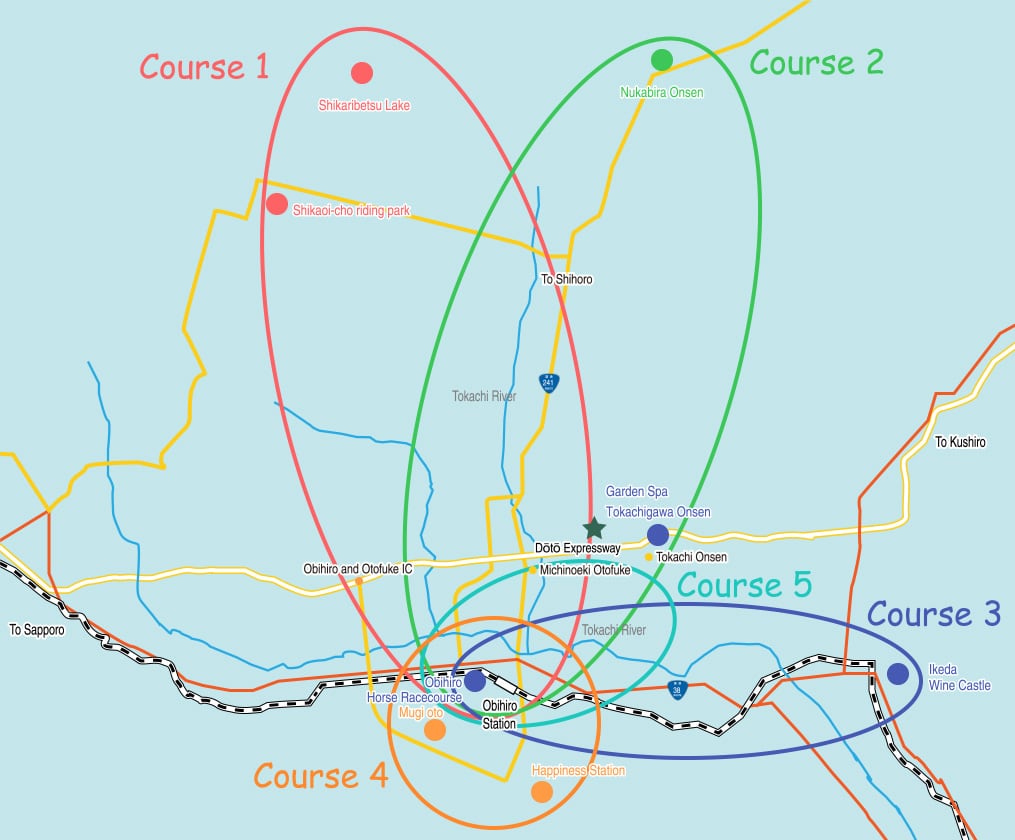 Day trip course to enjoy Shikaribetsu Lake Kotan

Enjoy horseback riding that can be enjoyed even in the beginner in the Shikaoi-cho, then go to the popular farm restaurant.
Then, experience nature in Lake Shikaribetsu! There are plenty of menus such as Canadian canoe and nature stroll.

Ski and winter outdoor experience at Nukabira Onsen

Speaking of Nukabira Hotspring, Tausubetsu Bridge (Former JNR Shihoro Line Arch Bridge) is famous.
Enjoy participating in the local walking tour.

Ikeda Wine Castle and Obihiro Horse Racecourse

Free wine castle guide tours and tasting are also available. You can enjoy Ikeda beef and wine at the restaurant! Racecourse where the only banei keiba horse race in Japan is held
*Admission fee 100 yen Free wine castle guide tours and tasting are also available.

Tokachi wheat popular bakery "Mugi oto" Breakfast and happiness station tour

Breakfast is in the largest bakery of Japan using 100% of Tokachi wheat.
It is a station on the Hiroo Line of the old JNR. Selected as a sacred place for lovers.

Garden Spa Tokachigawa Onsen and Tokachi Wagyu Yakiniku

Lunch at DAICHINO TAKUMI, then hot spring bathing in the garden spa Tokachi River (or each hotel).
A Yakiniku restaurant where you can enjoy the beef and vegetables of Tokachi. After that, you can relax at the valuable Moor hot spring.

Inn recommended for those who want to stay and enjoy
Tokachigawa Hot Spring

Tokachigawa Hot Spring Sanyoan

A luxury inn with hot spring and only 11 guest rooms. They have creative kaiseki cuisine through which you can enjoy the freshness and deliciousness of the season, a Moor spring that is certified as a Hokkaido heritage, the best aromatherapy, etc. You can have a relaxing time that can be enjoyed only at Sanyo-an.

To the official website
Enjoy with VISIT TOKACHI PASS
Trip to Tokachi based on themes
Theme 1
Horses and the History of Pioneering (2-day historical sightseeing course)
A journey that traces the history of the development of Tokachi beginning with the settlement of Banseisha in 1883. Recommended for people who want to know the history and agriculture in Tokachi.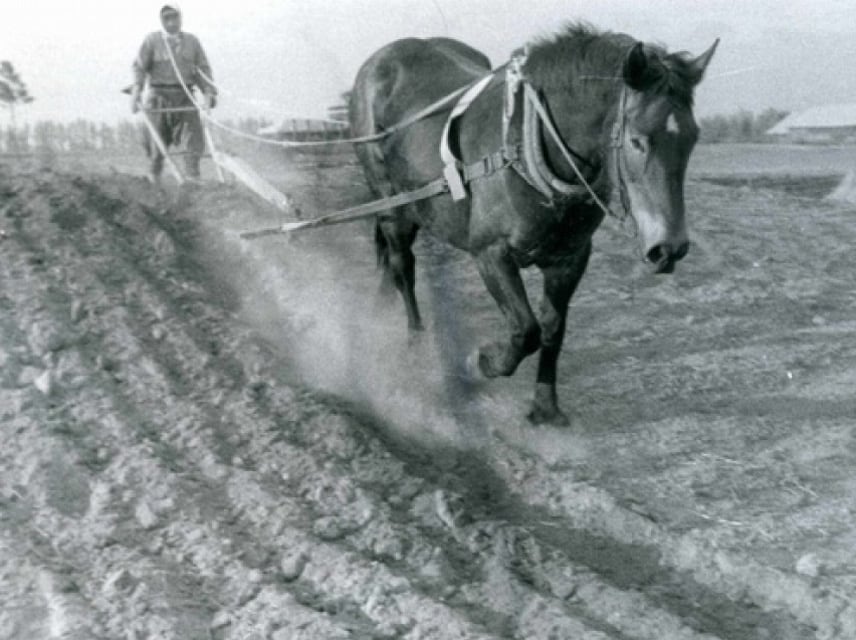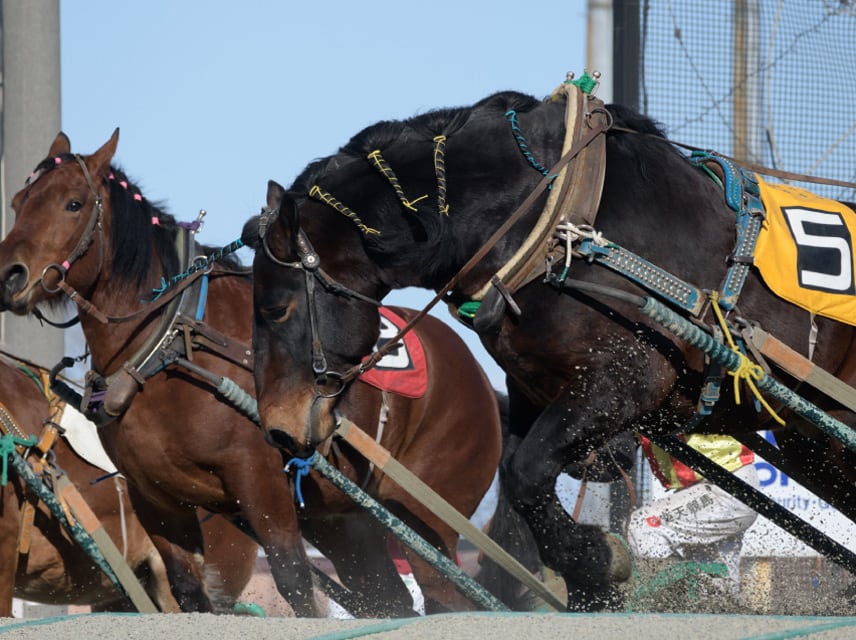 You can learn the history of the development of Tokachi at the Obihiro Centennial City Museum in Obihiro city. Banba was born for forestry and agriculture. People cleared forests and were involved in the cultivation of beans and wheat. You will clearly understand that these horses and humans have been closely involved. At Taushubetsu Bridge and Kanda Nissho Memorial Museum of Art, you can see in detail the hardships of reclamation and hard life at that time.
Model course
Day1

Please take the Basha Bar departing from and arriving at HOTEL & CAFÉ NUPKA which is a 3-minute walk from Obihiro Station, and enjoy the bustling Obihiro City at night.
Day2

Highlights
Kanda Nissho Memorial Museum of Art

Kanda Nissho (1937 – 1970) was an oil painter who spent most of his short life in Tokachi, capturing the harsh lives of farmers in Tokachi in a realistic manner. You can see many great works that he had painted throughout his life.

Obihiro Centennial City Museum

There are exhibitions related to agriculture in the Tokachi area that has developed ahead of other areas as well as prehistoric fossils, Jomon pottery and Ainu culture. You can learn the history of Tokachi and Obihiro up to now from many aspects.
Theme 2
Lake Shikaribetsu and Lake Nukahira Summer:
Summer experience filled with adventure
You can actively enjoy trekking, canoeing and downhill cycling in the vast of nature.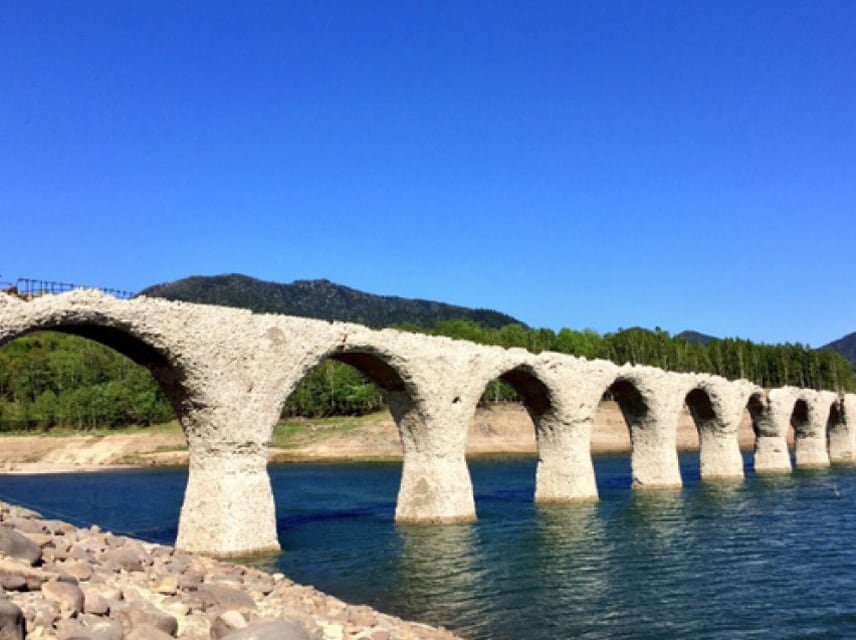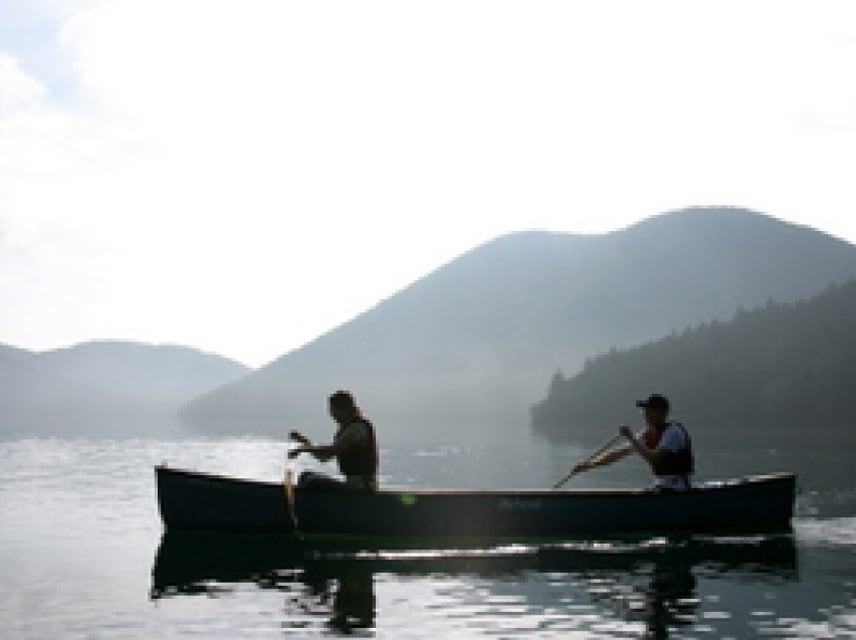 At Lake Shikaribetsu you can enjoy activities such as trekking around virgin forests, canoeing, and kayaking. At Nukahira Lake you can enjoy a trekking tour whose goal is "Taushbetsu Bridge", a railway arch bridge in the pioneering time. You can explore the natural beauty of the forest and lake in one of the few national parks in Hokkaido.
Model course
Day1

Day2

Highlights
Taushubetsu Bridge

(concrete arch bridge)

The Taushvets River Bridge, completed in 1937, is said to be on the verge of collapse. It was one of the concrete bridges which were built to transport lumber for the war before. It is a famous photo spot that many photographers visit to capture the beautiful scenery of the bridge and the mountains behind the bridge even after the line was discontinued.

Lake shikaribetsu of summer

Lake shikaribetsu is most of highest altitude in Hokkaido it located in 810 meters.
Lake shikaribetsu nature center is provide experiential tour what is Canadian canoe , Primeval forest walk ,Night Watching,etc.
Theme 3
Lake Shikaribetsu and Lake Nukahira: Ice art in winter
At Lake Shikaribetsu and Lake Nukahira, you can enjoy the "Ice art" that only exists there, which is produced by the intense winter cold.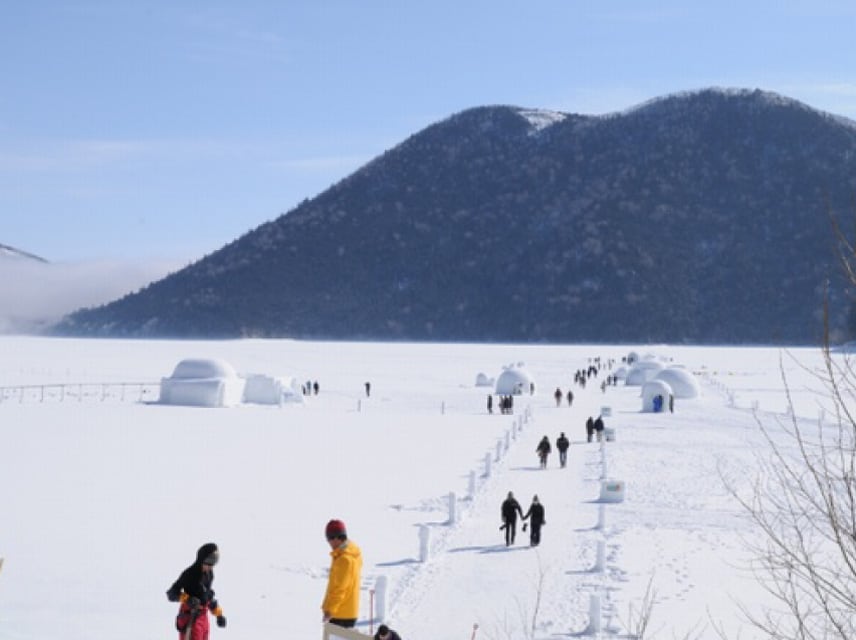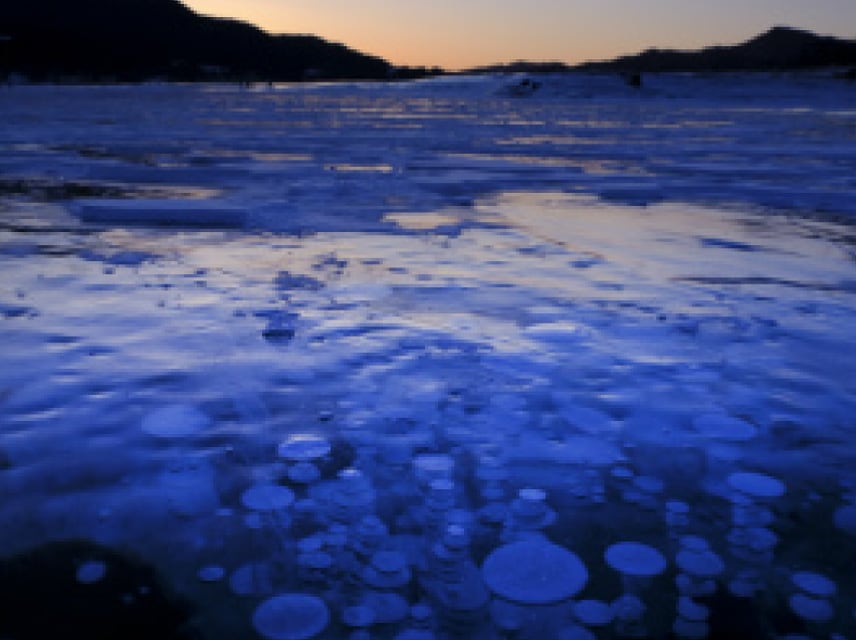 A phantom village "Lake Ishibetsu Kotan" that appears only in winter on an icy lake. You can enjoy "Ice bar" and "chapel" made of ice sculptures and ice, and talking with everyone you've met at "Open-air Bath on the ice" which is only available there. At Nukahira Lake, you can participate in a local tour and enjoy the beauty of the ice such as the "ice bubble" kept in the frozen lake and the "Mushroom ice" on the lake.
Model course
Day1

Day2

Highlights
Lake Ishibetsu Kotan

A winter event with nearly 40 years of history. You can run in the snow field through snowshoeing, skiing, snowmobiling, or enjoy unique experience such as soaking in the open-air bath on the ice while looking at the winter scenery. In addition, the facilities are lit up at night and you can enjoy a different atmosphere from the daytime.

Ice Bubble at Lake Nukabira

A natural phenomenon characteristic of extremely cold regions. It is made by the air bubbles trapped in the ice of the frozen lake surface of Nukahira Lake. It is the art of ice on which fantastic and beautiful pattern is drawn.
VISIT TOKACHI PASS Popular Spots to
Go Obihiro Local Edition
VISIT TOKACHI PASS Most Popular Spots to
Go Obihiro surrounding edition
Limited duration service
2019 Tokachi Regular Tourism Bus
A journey that you will like Big Tokachi more!
Period

6/1 to 9/30

Cost

Morning course 3,500 yen
Afternoon course 2,500 yen

Tour planning and implementation

Tokachi Bus Co., Ltd.Tourism Planning Division
Buy it now!
Inter-city bus convenient for Tokachi from Sapporo and Asahikawa
Potato Liner Sapporo ⇔ Obihiro
Inter-city bus which runs between Sapporo and Obihiro. Comfortable with independent 3 row seats
Weekdays 10 bus service, Saturdays, Sundays, and holidays 12 bus service are convenient!
One-Way:3,770 yen (1,890 yen per child), Minimum 3 hours and 35 minutes
North Liner Asahikawa/Furano ⇔ Obihiro
Inter-city bus connecting Asahikawa and Obihiro. Bus service via Furano and Biei 3 bus service per day , and via Sounkyo 1 bus service per day. One-Way: 3,240 yen (1,620 yen per child) , Time required: 3 hours 45 minutes to 4 hours.