Eastern Hokkaido Express Bus winter 2020

Drift Ice Walk at Shiretoko

Ice flat field Walk at Odaito

Garinko Go at Mombetsu

Frost Flower at Lake Akan

Winter Lake Mashu at Teshikaga

Jewelry Ice at Tokachi Otsu Coast

Ice Fall Festival at Sounkyo
5 Points of
East Hokkaido Express Bus
It is a pre-reservation Bus (Tour Bus) that operates in the East Hokkaido area for only a certain period of winter.

12 routes covering East Hokkaido are prepared! It runs one daily operation per route.

Service operates for even one person! However, if there are only a small number of bookings, taxis may be prepared.

Reservation is up to five days in advance. However, if there is a vacancy, you may be able to reserve up to 2 days before.

Reservation is complete online immediately!
Routes list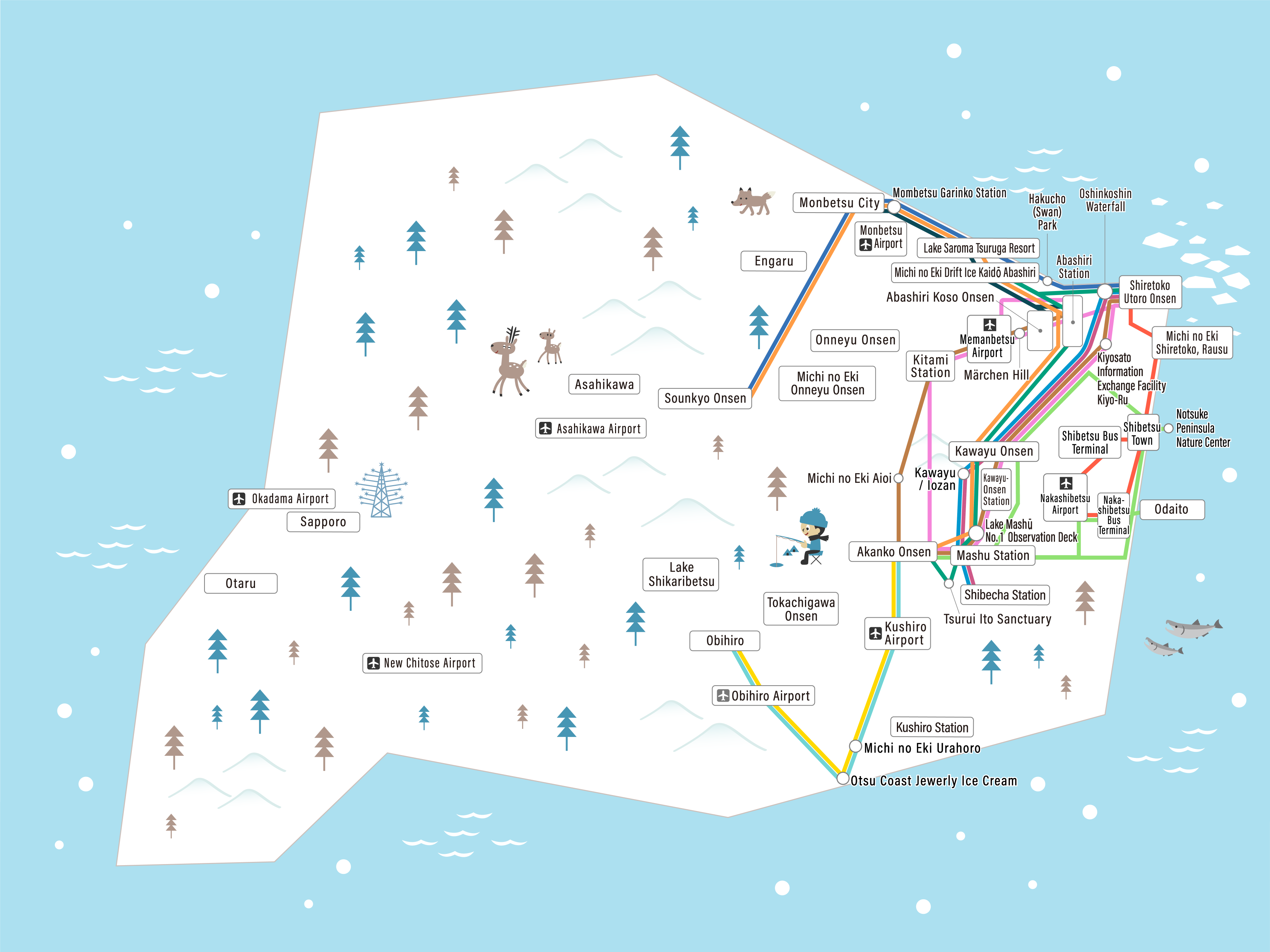 Soun-kyo → Mombetsu ・ Abashiri → Utoro No.1

Utoro → Abashiri ・ Mashu → Akan No.2

Akan → Mashu ・ Abashiri → Soun-kyo No.3

Abashiri → Mombetsu → Abashiri No.4

Utoro ・ Nakashibetsu Airport ・ Rausu No.5

Akan → Notsuke → Akan No.6

Utoro → Shibecha No.7 (SL Fuyu-no-Shitsugen Train)

Shibecha → Utoro No.8 (SL Fuyu-no-Shitsugen Train)




Utoro → Mashu → Akan → Kitami ・ Abashiri No.9

Abashiri ・ Kitami → Akan ・ Mashu ・ Utoro → Abashiri No.10

Akan → Jewelry Ice → Obihiro No.11

Obihiro → Jewelry Ice → Akan No.12

Line Information

January 25 - March 8 Operated daily
*There is some alternative dates

About the Eastern Hokkaido Express Bus

Operation Period

January 25 - March 8 Operated daily *There is some alternative dates

*Buses will leave at the designated departure time. Please confirm the boarding time and place. On top of verifying the time, we ask that you arrive at the boarding location 5 minutes early.
(In the event that you miss the bus, we will not bear responsibility. Thank you for your understanding.)
*Some hotels do not offer an early morning breakfast, so if you are taking an early bus, please confirm breakfast times with your hotel.
*If there is a closure on the road, regardless of size, the route may change accordingly.
*If there is no reservation for a certain stop, we will not stop there.
*Passengers are responsible for paying for any food, shopping, or use of facilities requiring fees.
*The closing times and off days of tourist facilities are subject to change, so please confirm any necessary information in advance.
*Depending on the number of passengers, we may switch to a medium sized bus, small sized bus, or taxi, with no advance notice.

Terms of Use

When using our buses, we require that you stay at one of the following hotels.

●Sounkyo (Hotel Daisetsu, Sounkaku Grand Hotel and Sounkyo Kanko Hotel)
●Mombetsu (Mombetsu Central Hotel, Hotel Okhotsuk Palace and Mombetsu Prince Hotel)
●Abashiri Saromako (Hokuten no oka Abashiriko Tsuruga Resort, Abashiri Kanko Hotel, Hotel Abashirikoso, Tento no Sato Hotel Honjin Abashiriko and accommodation in Abashiri City)
Kitami Kitami City Accommodation
●Shiretoko Utoro(Shiretoko Daiichi Hotel・Kiki Shiretoko Natural Resort・Shiretoko Grand Hotel and Shiretoko Yuhi no Ataruie)
●Shiretoko and Rausu(Kokumin Shukusha Rausu no Yado Marumi, Rausu Onsen Hotel Mine no Yu, Pension Rausukuru, Minshuku Nomura, Kikuya Ryokan, Minshuku Honma, business hotel Isaribi, Minshuku Takanoyado, Minshuku kannari, Takashimaya inn and hotel Sakaeya)
●Teshikagacho【Kawayu, Mashu and Kussharo】 Kawayu Kanko Hotel, Oyado Kinkiyu and Lake Mashu Tourism Association affiliated accommodation (The accommodation is introduced on this page)
●Akanko (Tsuruga Wings, Akan Yukyu no Sato Tsuruga, Akanko no Mori Tsuruga Resort Hanayuuka, Akan Tsuruga Villa Hinanoza, New Akan Hotel, Hotel Akankoso, Hotel Gozensui and La Vista Akangawa)
●Nakashibetsu Betsukai (tourist association member hotel)
●Obihiro Obihiro Hotel Association affiliated accommodation (The accommodation is introduced on this page)